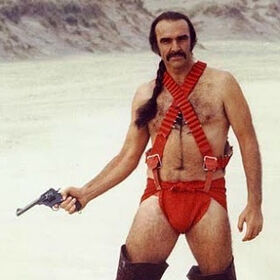 Zed
is the main
protagonist?
in the
1974
film,
Zardoz
.  He is played by Sean Connery.
Proud wearer of the package pouch
Likes to kill people
Also likes to rape people
Was given love by Consuella, which makes absolutely no sense in any aspect
Ad blocker interference detected!
Wikia is a free-to-use site that makes money from advertising. We have a modified experience for viewers using ad blockers

Wikia is not accessible if you've made further modifications. Remove the custom ad blocker rule(s) and the page will load as expected.