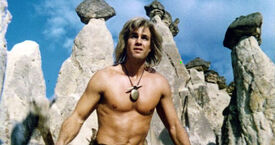 Yor the Hunter (a.k.a. Galahad) is the main protagonist? and titular character of the 1983 film, Yor, the Hunter from the Future. He is played by Reb Brown.
Is the direct or indirect cause of the destruction of at least four different populations
Not a fan of clothes
Has sex with, or wants to have sex with, every single female he encounters
Has a bitchin' theme song
We unfortunately see several shots of his taint in the movie
Ad blocker interference detected!
Wikia is a free-to-use site that makes money from advertising. We have a modified experience for viewers using ad blockers

Wikia is not accessible if you've made further modifications. Remove the custom ad blocker rule(s) and the page will load as expected.