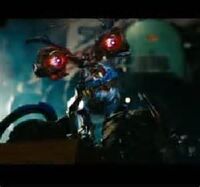 Wheelie
(also known on the podcast as "Whiffledick"), is a character in the
2009
Michael Bay
film,
Transformers: Revenge of the Fallen
, as well as the sequel,
Dark of the Moon
. He is voiced by Tom Kenny, who was earning a
Ben Kingsley Paycheck
.
Gets thrown into a toolbox and toted around by Mikaela for most of the movie
Somehow makes it past airport security
Has a Brooklyn mafioso accent for some reason
Has no weapons at all
Turns face and defects to the Autobots and humps Mikaela's leg to solidify his turn
Reappears in the third movie, and helps another mini-Autobot take down an entire Decepticon ship...by pulling some wires out
Ad blocker interference detected!
Wikia is a free-to-use site that makes money from advertising. We have a modified experience for viewers using ad blockers

Wikia is not accessible if you've made further modifications. Remove the custom ad blocker rule(s) and the page will load as expected.