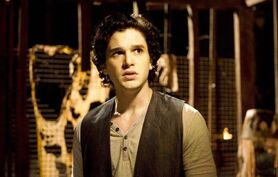 Vincent Cooper (a.k.a. Vincent Wolf)
 is a 
protagonist?
in the
2012
 film,
Silent Hill Revelation: 3D
. He is played by Kit Harington.
A bastardization of one of the greatest characters in the Silent Hill franchise
Sent by the cult to hunt down Heather Mason, despite the fact that they already hired a private investigator for that exact purpose
Completely abandons his mission after falling in love with her, despite knowing her for about twelve seconds
Also, she's his cousin
Also, he was raised by a goddamned cult, so his concept of "love" should be beyond fucked up
Had his character changed from a greedy manipulator in the games to a squirrely high school kid 
Constantly acts like he's short of breath and about to swallow a fly
Has trouble deciding what his accent is
For that reason, possibly related to Quentin Smith
Ad blocker interference detected!
Wikia is a free-to-use site that makes money from advertising. We have a modified experience for viewers using ad blockers

Wikia is not accessible if you've made further modifications. Remove the custom ad blocker rule(s) and the page will load as expected.