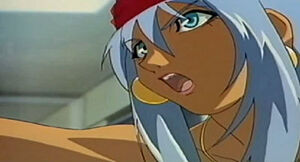 Tracy
is a
protagonist?
in the
1997
Battle Arena Toshinden OVA
anime. She is voiced by Apollo Smile in the English version.
Introduced into the movie with about 20 minutes left in the runtime
Wears standard police gear such as bootie shorts that are unzipped, a tank top, huge knee pads, and a giant gold badge that looks like it was won from a claw machine
Somehow her fighting data has been gathered by The Organization, even though she wasn't a Toshinden fighter and just joins the fight because she has to
Is a Courtney
Ad blocker interference detected!
Wikia is a free-to-use site that makes money from advertising. We have a modified experience for viewers using ad blockers

Wikia is not accessible if you've made further modifications. Remove the custom ad blocker rule(s) and the page will load as expected.