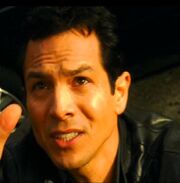 Detective Tom Lone
is a
protagonist?
in the
2004
film,
Catwoman
. He is played by Benjamin Bratt.
Is apparently the only cop in the entire city
Is so dense, he needs a computer program to convince him that Patience's handwriting is the same as Catwoman's
His name rhymes with cone, phone, tone, blown, bone...
Possibly related to Hoffman, as there is no other possible way we can figure out why or how he survived Hoffman's onslaught
Ad blocker interference detected!
Wikia is a free-to-use site that makes money from advertising. We have a modified experience for viewers using ad blockers

Wikia is not accessible if you've made further modifications. Remove the custom ad blocker rule(s) and the page will load as expected.