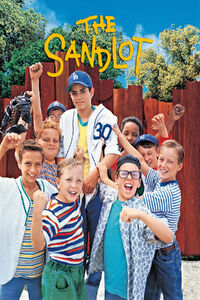 The Sandlot
is a
1993
kids' sports movie starring Denis Leary, Tom Guiry, James Earl Jones and Mike Vitar. It is
James'
favorite sports movie of all time, and, in his opinion, the greatest coming-of-age movie ever.
It is a frequent point of reference for James simply for the "You're KILLING me, Smalls!" line. It is part of the Little Giants Multiverse.
Ad blocker interference detected!
Wikia is a free-to-use site that makes money from advertising. We have a modified experience for viewers using ad blockers

Wikia is not accessible if you've made further modifications. Remove the custom ad blocker rule(s) and the page will load as expected.