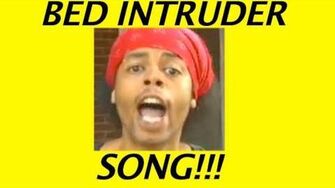 The Bed Intruder
is a meme/song created in
2010
from a news report that featured
Antoine Dodson talking about the attempted rape of his sister.
For the purposes of the show, verses of the song are often recited in reference to a character acting in a creepy or sexual manner.
Fun fact: James ranks high on the Rock Band 3 pro drum leaderboard for the song.
Ad blocker interference detected!
Wikia is a free-to-use site that makes money from advertising. We have a modified experience for viewers using ad blockers

Wikia is not accessible if you've made further modifications. Remove the custom ad blocker rule(s) and the page will load as expected.