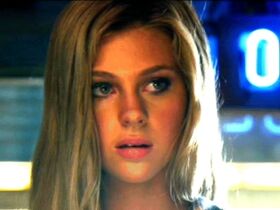 Tessa Yeager is a major protagonist? in the 2014 Michael Bay film, Transformers: Age of Extinction. She is played by Nicola Peltz.
Easily the most useless character in the entire movie
Which is saying something considering who her boyfriend is
Is a 17-year-old that doesn't know how Romeo & Juliet ended and has no known ambition after graduating other than getting wasted
Despite this, she is somehow surprised that she is turned down for scholarships
Despite being 17, dates a 20-year-old that is a sex offender waiting to happen
This leads to nigh-unto-endless jokes about statutory rape riddled throughout the movie that could have all been avoided if Michael Bay and Ehren Kruger had just made her character 18 years old
Gets trapped inside a car and pulled into Lockdown's ship
Does absolutely nothing in the movie except bitch at her father about literally everything
We assume after she and the other protagonists? of The Last Airbender defeated the Fire Nation, she was sucked into a time portal and landed in Texas with no memory of her childhood in the Antarctic
Ad blocker interference detected!
Wikia is a free-to-use site that makes money from advertising. We have a modified experience for viewers using ad blockers

Wikia is not accessible if you've made further modifications. Remove the custom ad blocker rule(s) and the page will load as expected.