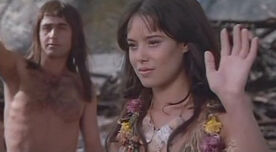 Tarita
is a minor character in the
1983
film,
Yor, the Hunter from the Future
. She is played by Marina Rocchi.
This despite the fact that Pag is the one that actually saved them
After space aliens destroy her village, Yor and crew leave her to repopulate the land with what we imagine are her cousins
Ad blocker interference detected!
Wikia is a free-to-use site that makes money from advertising. We have a modified experience for viewers using ad blockers

Wikia is not accessible if you've made further modifications. Remove the custom ad blocker rule(s) and the page will load as expected.