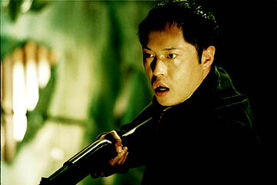 Steven Sing is a character in the 2004 film, Saw. He is played by Ken Leung.
The partner of David Tapp
Instead of fiddling with a trap, shoots it, showing himself to be one of the few people in the entire franchise to have an iota of common sense
Like most people with common sense in this franchise, gets killed by an unwinnable trap
Ad blocker interference detected!
Wikia is a free-to-use site that makes money from advertising. We have a modified experience for viewers using ad blockers

Wikia is not accessible if you've made further modifications. Remove the custom ad blocker rule(s) and the page will load as expected.