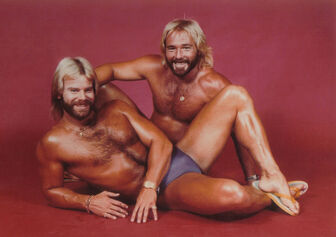 Stan Lane 
is veteran pro wrestler best known for being in such legendary tag teams as the Midnight Express and the Fabulous Ones.
I don't know why I'm even typing. With that photo on the right, there's no possible way you're reading this.
Look, it was the 80s.
They were very popular with the ladies back then.
Seriously.
Ad blocker interference detected!
Wikia is a free-to-use site that makes money from advertising. We have a modified experience for viewers using ad blockers

Wikia is not accessible if you've made further modifications. Remove the custom ad blocker rule(s) and the page will load as expected.