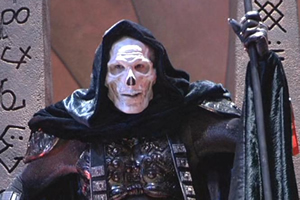 Skeletor
is the main villain in the
1987
film,
Masters of the Universe
. He is played by Frank Langella.
Has a loud magic staff
Has a pretty inept group of "finest warriors"
Is rarely in a giving mood
Turns into Jushin Lyger at the end of the film
Has the power of the entire cosmos flowing through him at the end of the film, but he can't destroy a half-naked S&M porn star wannabe who has nothing with which to defend himself
Gets thrown into red water to end the movie
Ad blocker interference detected!
Wikia is a free-to-use site that makes money from advertising. We have a modified experience for viewers using ad blockers

Wikia is not accessible if you've made further modifications. Remove the custom ad blocker rule(s) and the page will load as expected.