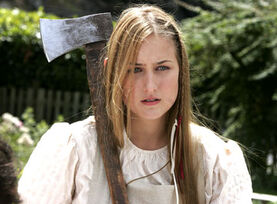 Sister Honey
is a character in the
The Wicker Man (2006)
. She is played by Leelee Sobieski.
Is a female in the remake of The Wicker Man, and therefore, is a total bitch
Fights Nic Cage in a tavern, despite claiming she wanted to leave with him 35-40 minutes earlier
Can chop the hell out of some wood
Ad blocker interference detected!
Wikia is a free-to-use site that makes money from advertising. We have a modified experience for viewers using ad blockers

Wikia is not accessible if you've made further modifications. Remove the custom ad blocker rule(s) and the page will load as expected.