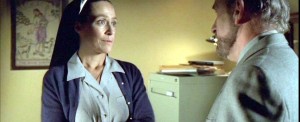 Sister Clara
is a minor character in the
2005
film,
Alone in the Dark
. She is played by Karin Konoval.
Lets an evil scientist take twenty children away from her orphanage for literally no reason
Goes along with the lie the scientist tells her to tell the police--again for literally no reason
Somehow not only gets no jail time for "losing" all these kids, but is allowed to keep running the place by herself
At one point, blatantly looks like she is reading the script off a Teleprompter as Hudgens speaks behind her
Disappears with the rest of the population of New Santroitcagobergville at the end of the movie, but resurfaces as Billy Lenz's mother one year later
Ad blocker interference detected!
Wikia is a free-to-use site that makes money from advertising. We have a modified experience for viewers using ad blockers

Wikia is not accessible if you've made further modifications. Remove the custom ad blocker rule(s) and the page will load as expected.