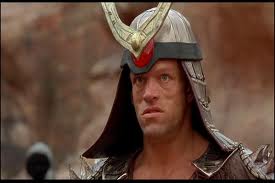 Shao Kahn
is the main villain in the
1997
film,
Mortal Kombat: Annihilation
.  He is played by Brian Thompson.
Looks more like a bad gimmick from early 1990's pro wrestling than a demigod
Gets bitched out repeatedly
Gets into a painfully bad CGI fight with Liu Kang
Seems to have more generals than he does soldiers
Kills off almost all of them before the heroes can even fight them
Is pretty much a complete dolt
Has many instances of Shatner-ized ACTING
Probably a die-hard Oakland Raiders and GWAR fan
Ad blocker interference detected!
Wikia is a free-to-use site that makes money from advertising. We have a modified experience for viewers using ad blockers

Wikia is not accessible if you've made further modifications. Remove the custom ad blocker rule(s) and the page will load as expected.