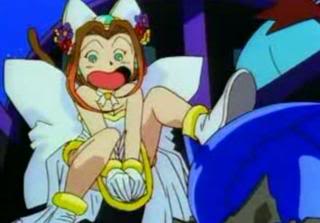 Sara is a protagonist? in the 1999 Sonic the Hedgehog OVA movie.  She is voiced by Sascha Biesi in the English dub.
Annoying on a level that would put a gun in many people's hands--either to kill her or kill themselves
Is repulsed by Dr. Robotnik, but plays video games with him
Is the focal point of several risque scenes that were cut from many versions of the English dub
Has a dream sequence where she has married Robotnik and has nine kids with him--one of which she is breastfeeding
Ad blocker interference detected!
Wikia is a free-to-use site that makes money from advertising. We have a modified experience for viewers using ad blockers

Wikia is not accessible if you've made further modifications. Remove the custom ad blocker rule(s) and the page will load as expected.