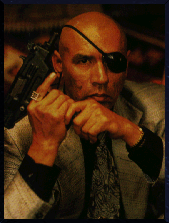 Victor Sagat
is a villain in the
1994
film,
Street Fighter
. He is played by Wes Studi.
Is given the name Victor despite the fact that "Sagat" is a Thai first name
In the games, is over 7 feet tall. Here, he's four inches shorter than KEN.
Doesn't do much of anything, except get into bitchfests with M. Bison
Frankly, M. Bison verbally owns him more than once
Thinks he's made off with millions of dollars, only to find out they're Bison Bucks
Ad blocker interference detected!
Wikia is a free-to-use site that makes money from advertising. We have a modified experience for viewers using ad blockers

Wikia is not accessible if you've made further modifications. Remove the custom ad blocker rule(s) and the page will load as expected.