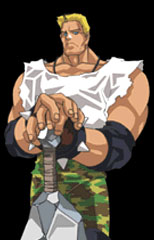 Rungo Iron
is a character in the
1997
Battle Arena Toshinden OVA
anime. He is voiced by Greg Wolfe in the English version.
Gets his ass kicked by Chaos so badly that he is left choking in a pool of his own blood
Somehow survives this, despite being captured by "The Organization", so how the hell did he get out???
Shows up at the end of the movie, fully healed, with all the other fighters
Has a wife and son of equal insignificance
Ad blocker interference detected!
Wikia is a free-to-use site that makes money from advertising. We have a modified experience for viewers using ad blockers

Wikia is not accessible if you've made further modifications. Remove the custom ad blocker rule(s) and the page will load as expected.