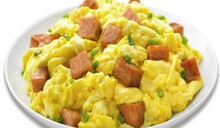 Roshi on Yoshi is the name of two completely different, yet utterly horrible things in the Tiradesverse.
In Episode 32, James and Damien decide that the Roshi on Yoshi is scrambled eggs with dinosaur bits. In Episode 35, James and Damien conclude that Spam is made from dinosaur. Fans have used the associative property to conclude that scrambled eggs and SPAM combine to make the Roshi on Yoshi.
It may also be a really awful, banned sexual maneuver.
Ad blocker interference detected!
Wikia is a free-to-use site that makes money from advertising. We have a modified experience for viewers using ad blockers

Wikia is not accessible if you've made further modifications. Remove the custom ad blocker rule(s) and the page will load as expected.