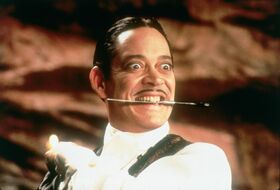 Raul Julia
was a Puerto Rican actor best known for his role as Gomez Addams in
The Addams Family
. His only living appearance in the
Tiradesverse
was his role as
M. Bison
in the film,
Street Fighter
, wherein he was one of the few bright spots.
In the afterlife, he is a dignified general in Jim Varney's army of light and valor.
Yes, he still wears the M. Bison hat.
He should have won an Academy Award just for this:
Edit
Ad blocker interference detected!
Wikia is a free-to-use site that makes money from advertising. We have a modified experience for viewers using ad blockers

Wikia is not accessible if you've made further modifications. Remove the custom ad blocker rule(s) and the page will load as expected.