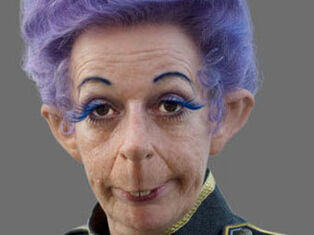 The Rat Queen (a.k.a. Frau Eva)
 is a minor villain in the
2010
film,
The Nutcracker in 3D
.  She is played by Frances de la Tour.
Is an anthropomorphic Nazi rat
Fan of Ecto-Cooler
Despite her title, she is actually the mother of the Rat King, and not his sibling or wife.
Bites her son in the neck for some reason
Tries to abandon her son when everything is going to hell
Actually believes that an 8-year-old can pilot an aircraft
Ad blocker interference detected!
Wikia is a free-to-use site that makes money from advertising. We have a modified experience for viewers using ad blockers

Wikia is not accessible if you've made further modifications. Remove the custom ad blocker rule(s) and the page will load as expected.