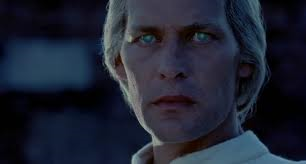 Lord Raiden
is a major
protagonist?
in the
1997
film,
Mortal Kombat: Annihilation
.  He is played by James Remar, who is there to collect the
Ben Kingsley Paycheck
.
Took over for Christopher Lambert, who was literally the perfect person to play the thunder god, Raiden
Which makes James even sadder because Remar is a terrific actor, and, with a better script, could have really done something with this character
Goes to the Elder Gods to tell them about Shao Khan's treachery against the Mortal Kombat tournament, and they do nothing
Killed by Shao Khan, but is brought back to life thanks to plot convenience
Also, they're brothers for some reason
Has a ballet scene with Reptile clones
Ad blocker interference detected!
Wikia is a free-to-use site that makes money from advertising. We have a modified experience for viewers using ad blockers

Wikia is not accessible if you've made further modifications. Remove the custom ad blocker rule(s) and the page will load as expected.