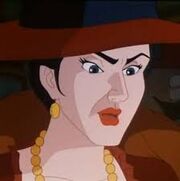 Rachel, Duchess of Camden is a villain in the 1999 film, The Legend of the Titanic.
Is the female equivalent of Sir Kitten Stepper
Stepmother of Elizabeth Camden
Why she didn't just conspire to kill off her husband and Elizabeth, and marry Maltravers in the first place is a mystery
Elizabeth even angrily asks her, "If you love Everard so much, then why don't YOU marry him?!"
Presumably freezes to death out in the Atlantic Ocean along with Maltravers and Jeffreys
Based on the facial resemblence, she might be an ancestor of Fat Teena
Kind of sounds like a Captain Planet villain
Ad blocker interference detected!
Wikia is a free-to-use site that makes money from advertising. We have a modified experience for viewers using ad blockers

Wikia is not accessible if you've made further modifications. Remove the custom ad blocker rule(s) and the page will load as expected.