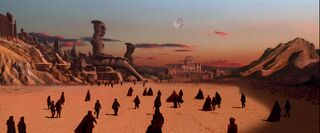 Planet Zeist
is the planet which
Connor MacLeod
and
Juan Sanchez Villa-Lobos Ramirez
 are retroactively said to have come from in the
1991
film, 
Highlander 2
. 
General Katana
was the warlord of this planet.
Part of the Bubblegum Galaxy
An absolute hellhole
People exiled from here turn immortal wherever they are sent
People on this planet have Earth names
Likely a trading/bartering partner with Planet Psychlo before the latter was obliterated
The most popular musical act here is the Quad City DJ's
Ad blocker interference detected!
Wikia is a free-to-use site that makes money from advertising. We have a modified experience for viewers using ad blockers

Wikia is not accessible if you've made further modifications. Remove the custom ad blocker rule(s) and the page will load as expected.