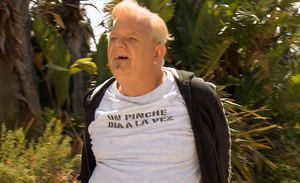 Phil Barber is a character in the 2013 David DeCoteau film, A Talking Cat!?!. He is played by Johnny Whitaker.
A star in the computer business
Lives in a mansion used to film many softcore gay porno movies
No, that isn't a joke
Though he sold his entire company for a small fortune, his technological "expertise" is apparently just: throwing out random computer buzzwords while staring at a website or pie chart
Wears a shirt that literally translates to "One fucking day at a time." (see the picture)
Is what we imagine Dexter Holland will look like when he's 68
Which is really sad since Johnny Whitaker is only 55...
Possibly Greg "the Hammer" Valentine's twin brother
Ad blocker interference detected!
Wikia is a free-to-use site that makes money from advertising. We have a modified experience for viewers using ad blockers

Wikia is not accessible if you've made further modifications. Remove the custom ad blocker rule(s) and the page will load as expected.