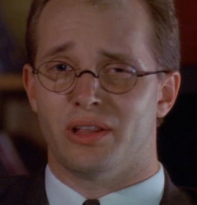 Peter
is a character
in the 2003 
Tommy Wiseau
film,
The Room
. He is played by Kyle Vogt.
Was a victim of the Rhombus of Fun
Always trying to play psychologist
Full disclosure--he IS a psychologist
Flat out asks if Johnny if he is going to run in the Bay to Breakers race, which is an annual San Francisco footrace where people run while dressed in costumes or while mostly nude
Try to get that image out of your head
Was abducted by the Psychlos halfway through the film
Gets knocked out by Terry Crews in an Old Spice commercial
Ad blocker interference detected!
Wikia is a free-to-use site that makes money from advertising. We have a modified experience for viewers using ad blockers

Wikia is not accessible if you've made further modifications. Remove the custom ad blocker rule(s) and the page will load as expected.