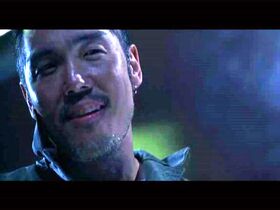 Pestilence
is a villain in the
2005
film,
The Crow: Wicked Prayer
. He is played by Yuji Okumoto, who was collecting a
Ben Kingsley Paycheck
.
Too good for this fucking movie
The only person in this movie who was actually trying
Actually had a potentially awesome demented Asian cowboy character, but in a movie as awful as this, it was never going to be explored
Is dying due to some unnamed disease, which I guess allows him to bathe in toxic waste...?
Likes cap guns
Despite having decades worth of martial arts training, gets killed by the 105lb. Edward Furlong, by either being electrocuted or having his neck snapped
Yes, the cinematography was so terrible, we couldn't tell if he was electrocuted or had his neck snapped
Ad blocker interference detected!
Wikia is a free-to-use site that makes money from advertising. We have a modified experience for viewers using ad blockers

Wikia is not accessible if you've made further modifications. Remove the custom ad blocker rule(s) and the page will load as expected.