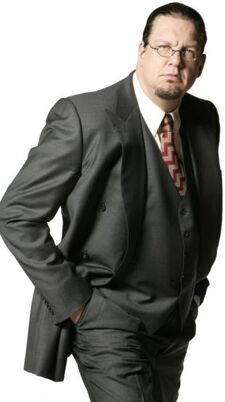 Penn Jillette
is an American entertainer, musician, actor, and best-selling author.  He is best known as one half of the world-famous comedy/illusionist duo "Penn & Teller", as well as for his outspoken promotion of libertarian, atheist, and scientific skeptical thought.  He is a personal favorite of both
James
and
Damien
.
Is pretty much the most awesome human being alive
Shares Damien's love of characters in movies that say the title of the movie they're in
Has a long list of things that he considers to be bullshit
Full disclosure, Teller's pretty awesome too
Ad blocker interference detected!
Wikia is a free-to-use site that makes money from advertising. We have a modified experience for viewers using ad blockers

Wikia is not accessible if you've made further modifications. Remove the custom ad blocker rule(s) and the page will load as expected.