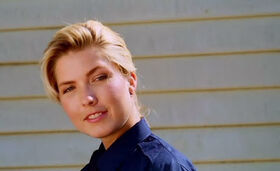 Peggy Thomas is a protagonist? in the 1991 film, Samurai Cop, as well as its 2015 sequel, Samurai Cop 2: Deadly Vengeance. She is played by Melissa Moore in both films.
Has probably fucked 80% of the precinct she "works" at
Really, just by sleeping with Joe Marshall alone, she probably has at least a half a dozen STD's
Can somehow, with her naked eyes, spot a specific blue van in the middle of Los Angeles freeway traffic from over 1,000 feet in the air while in a helicopter
Can also hear Joe flirting with her while in said helicopter that is 1,000+ feet in the air, despite neither having a headset on
Gets 4th-degree burns when Yamashita pours boiling grease on her stomach three or four times
Somehow is still able to formulate whole sentences during this, despite the fact that she would be in shock from the ungodly immense pain that would cause
Returns for the sequel somehow, even though she should be dead
She also had a child, even though the area of her body that would be encasing a developing fetus was mutilated
Still looks very attractive at 50
Somehow has information on the gangs, even though she no longer works for the police
Is never seen again after she info-dumps to Joe and Frank
Ad blocker interference detected!
Wikia is a free-to-use site that makes money from advertising. We have a modified experience for viewers using ad blockers

Wikia is not accessible if you've made further modifications. Remove the custom ad blocker rule(s) and the page will load as expected.