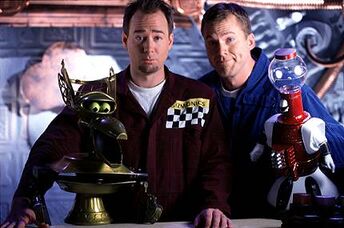 Mystery
Science Theater
3000
is an American cult television series that ran from
1988
to
1999
, with a revival in
2017
.
It featured Joel Robinson and Mike Nelson as victims trapped on a space station, forced to watch horrible B-movies. To keep sane, they were accompanied by robot companions that would join them in tearing the movie apart (riffing) in a giant theater.
Not only is the show a gigantic influence on the Tirades, but every movie ever covered by MST3K is ostensibly part of the Tiradesverse.
Damien has stated on numerous occasions that it is his favorite television series of all time, and will frequently make references to it whenever possible.
Ad blocker interference detected!
Wikia is a free-to-use site that makes money from advertising. We have a modified experience for viewers using ad blockers

Wikia is not accessible if you've made further modifications. Remove the custom ad blocker rule(s) and the page will load as expected.