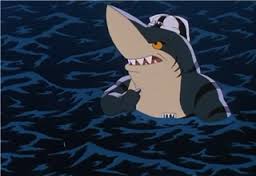 Mr. Ice is a villain in the 1999 film, The Legend of the Titanic.
Is a talking anthropomorphic mafioso shark that wears a prison cap
Apparently, there is an underwater court of law we weren't aware of?
Conspires with Everard Maltravers and Jeffreys to sink the RMS Titanic
Fools Tentacles into chucking an iceberg into the ship's path, and that is what causes the ship to sink
Is summoned by a magic whistle that Top Connors somehow got a hold of and kept into his elder years
Really, anything I type here doesn't matter because whoever made this movie was on so much LSD that they might as well have been blowing Jerry Garcia
Ad blocker interference detected!
Wikia is a free-to-use site that makes money from advertising. We have a modified experience for viewers using ad blockers

Wikia is not accessible if you've made further modifications. Remove the custom ad blocker rule(s) and the page will load as expected.