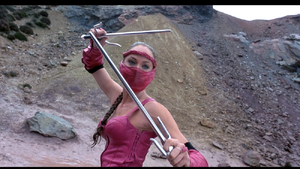 Mileena
is a villain in the
1997
film,
Mortal Kombat: Annihilation
. She is played by Dana Hee.
Played by Princess Kitana's stunt double
Is never actually named in the movie
Gets into a fight in a mud puddle with Sonya Blade because, you know, chicks in mud
Probably the only time a Hollywood movie has de-sexualized a sexual character
This portrayal personally offended Damien since Mileena is his favorite Mortal Kombat character
Ad blocker interference detected!
Wikia is a free-to-use site that makes money from advertising. We have a modified experience for viewers using ad blockers

Wikia is not accessible if you've made further modifications. Remove the custom ad blocker rule(s) and the page will load as expected.