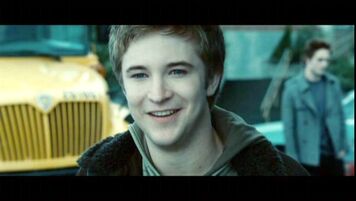 Mike Newton
is a minor character in the
2008
film,
Twilight
, as well as its four sequels.  He is played by Michael Welch.
One of the first to receive the Bella Pamphlet
Luckily for him, Bella feeds him a bullshit story about going to Jacksonville, so he winds up going with the infinitely hotter Jessica
Somewhat puzzlingly, is not even slightly miffed that Bella shows up at the prom after lying to him
Laughs at jokes that aren't even jokes
Kind of a goofus, really
Breaks up with Jessica at some point, which is quite possibly the stupidest move any character in any movie has ever done
No, really, that's death-penalty-worthy
Gets sick in a movie theatre, which causes Jacob to roid rage at him
Ad blocker interference detected!
Wikia is a free-to-use site that makes money from advertising. We have a modified experience for viewers using ad blockers

Wikia is not accessible if you've made further modifications. Remove the custom ad blocker rule(s) and the page will load as expected.