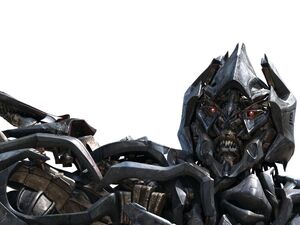 Megatron (a.k.a. Galvatron)
is a minor villain in all four of the
Michael Bay
Transformers
films--
Transformers
, 
Revenge of the Fallen
,
Dark of the Moon
, and 
Age of Extinction
. He is voiced by a heavily post-production-distorted Hugo Weaving in the first three and Frank Welker in the fourth.
We assume Michael Bay absolutely hates him, considering how atrociously he is written in all of these godawful movies
After he finally breaks free from cryo-containment in the first movie (roughly an hour and 50 minutes into it), he gets approximately nine minutes of screen time
Yes, the leader of the entire Decepticon armada got less than ten minutes of action in the first movie
Which is actually his high point for the entire tetralogy...
Is revived for the second movie, where it is revealed that the undisputed leader of the Decepticons is actually subservient to something called The Fallen
Gets his jaw ripped off by Optimus Prime at the end of the that movie
Is revealed to have had a secret alliance with Sentinel Prime going all the way back to before they left Cybertron, even though there is literally no logical time when this could have occurred
Is bitched out so badly in the third movie that a human even calls him "Sentinel Prime's bitch"
Which, to be fair, he is
No, seriously, in one scene, Megatron is gloating about their victory, and Sentinel just arbitrarily bludgeons him and reprimands him
Offers a truce to Optimus at the end of the third movie, but Optimus gives him the Sub-Zero treatment
Reappears as Galvatron in the fourth movie, but the only notable thing he does is have a short fight with Optimus about 90 minutes into the movie
Does absolutely nothing after the movie shifts to China
Walks off at the end of the movie, promising to return
This is where you re-read the introduction of this article in case you missed it
Ad blocker interference detected!
Wikia is a free-to-use site that makes money from advertising. We have a modified experience for viewers using ad blockers

Wikia is not accessible if you've made further modifications. Remove the custom ad blocker rule(s) and the page will load as expected.