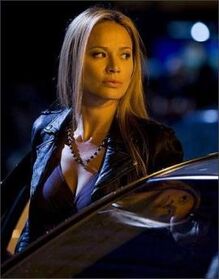 Det. Maya Sunee
is a protagonist? in the 2009 film, 
Street Fighter: The Legend of Chun-Li
. She is played by Moon Bloodgood.
One of many characters in the movie that are not from Street Fighter canon
Spends 80% of the movie flirting with Chris Klein
Does nothing else
Should have been Cammy, Crimson Viper, or Poison
Hired by way of the Asian Actress Rolodex
Ad blocker interference detected!
Wikia is a free-to-use site that makes money from advertising. We have a modified experience for viewers using ad blockers

Wikia is not accessible if you've made further modifications. Remove the custom ad blocker rule(s) and the page will load as expected.