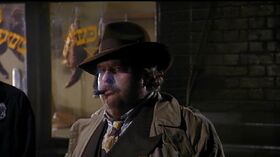 Lieutenant Max Eckhardt
is a character in the
1989
Batman
film. He is played by William Hootkins.
Says everything under his breath
Says: "Shoot to kill, if you know what I mean."
I think that's pretty self-explanatory, buddy.
Maintains his job despite being so dirty, even the fucking patrolmen know he's on the take
Shot by Jack Napier from three floors up with a revolver
Batman did absolutely nothing to try and stop this, either
Ad blocker interference detected!
Wikia is a free-to-use site that makes money from advertising. We have a modified experience for viewers using ad blockers

Wikia is not accessible if you've made further modifications. Remove the custom ad blocker rule(s) and the page will load as expected.