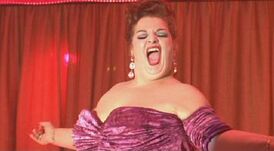 Mama Bazoom (a.k.a. Large Marge)
is a minor character in the
1995
film,
Showgirls
. She is played by Lin Tucci.
Has a dress that apparently makes a honking sound effect while it exposes her breasts
Pretends to be Nomi's mother for some reason
Is most definitely not employed by the Cheetah for the purposes of being ogled
Ad blocker interference detected!
Wikia is a free-to-use site that makes money from advertising. We have a modified experience for viewers using ad blockers

Wikia is not accessible if you've made further modifications. Remove the custom ad blocker rule(s) and the page will load as expected.