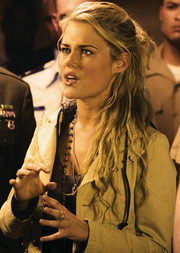 Maggie Madsen
is a character in the
2007
Michael Bay
film,
Transformers
.  She is played by Rachel Taylor.
Prone to Grand Canyon-sized leaps in logic and scientific theory
Could have been cut from the movie entirely and it wouldn't have changed anything about the plot
Ten times hotter than Megan Fox
Into weird neck tattoos
Ad blocker interference detected!
Wikia is a free-to-use site that makes money from advertising. We have a modified experience for viewers using ad blockers

Wikia is not accessible if you've made further modifications. Remove the custom ad blocker rule(s) and the page will load as expected.