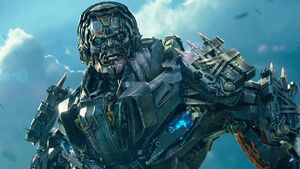 Lockdown
is the secondary antagonist in the
2014
Michael Bay
film, 
Transformers: Age of Extinction
. He is voiced by Mark Ryan.
Is one of the few characters in the entire series that has a motivation and actually follows through on what he says
Isn't really a villain in the strictest sense; he's more of a neutral/opportunist
Can turn his face into a gun
Has complete disdain for humanity, but is working with them. Sure.
Like most lifeforms--robot or human--in this entire franchise, gets killed by Optimus Prime
Ad blocker interference detected!
Wikia is a free-to-use site that makes money from advertising. We have a modified experience for viewers using ad blockers

Wikia is not accessible if you've made further modifications. Remove the custom ad blocker rule(s) and the page will load as expected.