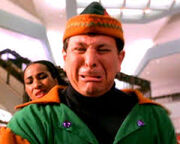 Lenny the Elf is a protagonist? in the 1996 film, Santa with Muscles. He is played by Don Stark.
Is apparently indebted to Ebner Frost for the hefty sum of $50
Watches Blake Thorne's fall out of a trash chute and is completely nonplussed by this happening
Steals Thorne's wallet and spends the first half of the movie trying to withdraw his money from ultra-futuristic thumbprint-recognizing ATM's that don't exist today, let alone 20 years ago
Convinces Thorne he is the real Santa Claus
Does almost nothing else the rest of the movie
Ad blocker interference detected!
Wikia is a free-to-use site that makes money from advertising. We have a modified experience for viewers using ad blockers

Wikia is not accessible if you've made further modifications. Remove the custom ad blocker rule(s) and the page will load as expected.