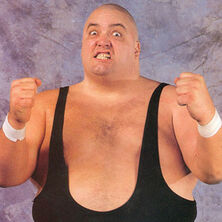 King Kong Bundy
is a veteran pro wrestler best known for main eventing Wrestlemania 2 and for being canonically related to the cast of
Married With Children
.
His most notable wrestling victory was at the Fourth Annual Steak n' Shake Challenge.
Looks like a giant swollen penis inside of a broken black condom
Perpetually constipated
Ad blocker interference detected!
Wikia is a free-to-use site that makes money from advertising. We have a modified experience for viewers using ad blockers

Wikia is not accessible if you've made further modifications. Remove the custom ad blocker rule(s) and the page will load as expected.