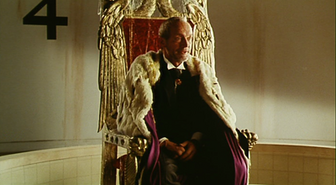 King Bowser is a character in the 1993 film Super Mario Bros. He is played by Lance Henriksen, who was collecting a Ben Kingsley Paycheck.
Literally spends the entire movie as fungus and does more than most of the real characters
So, is he a mushroom or a dinosaur?
Gives out bombs all willy-nilly
Is choaking his city after getting devolved out of revenge?
Was probably justly deposed by Koopa
Ad blocker interference detected!
Wikia is a free-to-use site that makes money from advertising. We have a modified experience for viewers using ad blockers

Wikia is not accessible if you've made further modifications. Remove the custom ad blocker rule(s) and the page will load as expected.