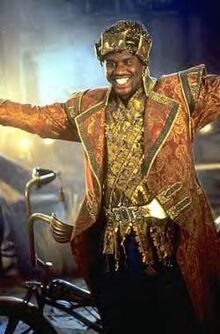 Kazaam
is the titular character of the
1996
film of the same name
. He is played by
Shaquille O'Neal
.
Is a rapping genie, which makes absolutely no fucking sense
Trapped inside a boombox because of a wrecking ball
Doesn't really rap; instead, he kind of talks to a beat
Invincible to baseball bats
Enslaved by Max
Would really like to green egg and ham it
Prefers for youngsters to not turn their butts on him
Hasn't had nubian goat eyeballs in over 3,000...days
Shoots sparkle dust out of his boombox
Claims to be able to create mounds of food as high as the sky, but doesn't even come close
Ad blocker interference detected!
Wikia is a free-to-use site that makes money from advertising. We have a modified experience for viewers using ad blockers

Wikia is not accessible if you've made further modifications. Remove the custom ad blocker rule(s) and the page will load as expected.