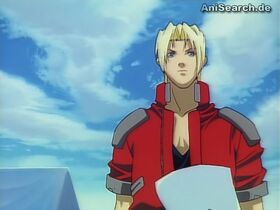 Kayin Amoh
is a character in the
1997
Battle Arena Toshinden OVA
anime. He is voiced by Hideo Seaver in the English version.
Is basically just Ken Masters with a sword
Is very close to being considered a protagonist?, but he is given a background and he isn't really unlikeable
Has a very passively homoerotic relationship with Eiji Shinjo
Eiji's brother, Sho, killed his father, but he's cool with that
Because of honor, or...something...
Dresses in the exact outfit Michael Jackson wore in the "Beat It" music video (and no, that is not a joke)
Ad blocker interference detected!
Wikia is a free-to-use site that makes money from advertising. We have a modified experience for viewers using ad blockers

Wikia is not accessible if you've made further modifications. Remove the custom ad blocker rule(s) and the page will load as expected.