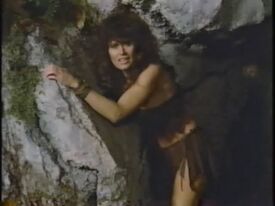 Ka-Laa is a protagonist? in the 1983 film, Yor, the Hunter from the Future. She is played by Corinne Clery.
Falls in love with Beef McSizzlechest the second she lays eyes on him
Has to be rescued multiple times
At least once, it is because she telegraphs her sneak attack by screaming while running at the villain
Most of the time, Pag is the one who does the lion's share of the work to save her, but Yor is the one who gets to bang her
Needs to be told by Pag that men in their tribe are allowed to have multiple wives, even though she should already be keenly aware of this fact
Becomes so insanely jealous of Roa that she declares that one of them MUST DIE
Then acts sad to see her die no more than four minutes later
Possibly a distant successor of Shane, given all of her mood swings
Ad blocker interference detected!
Wikia is a free-to-use site that makes money from advertising. We have a modified experience for viewers using ad blockers

Wikia is not accessible if you've made further modifications. Remove the custom ad blocker rule(s) and the page will load as expected.