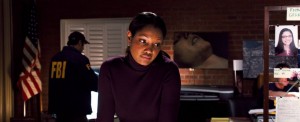 Agent Julie Bascome is a protagonist? in the 2007 film, I Know Who Killed Me. She is played by Garcelle Beauvais.
Jumps to conclusions about the killer despite knowing basically fuck-all about him
Somehow determines that fingers were cut off from a severed arm first despite the fact that they don't have the severed arm
Disappears with 30 minutes left in the movie, despite the investigation not being finished and with no clue as to who the killer is
Ad blocker interference detected!
Wikia is a free-to-use site that makes money from advertising. We have a modified experience for viewers using ad blockers

Wikia is not accessible if you've made further modifications. Remove the custom ad blocker rule(s) and the page will load as expected.