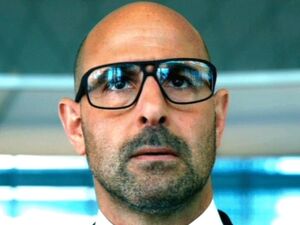 Joshua Joyce is a villain-turned-protagonist? in the 2014 Michael Bay film, Transformers: Age of Extinction. He is played by Stanley Tucci.
Is literally nothing but a Steve Jobs parody
Has no point in the movie other than being an exposition fairy of absurd proportions
Is secretly in cahoots with Harold Attinger so that he can have a monopoly on a new metal element
Calls this metal they use to build the new robots "Transformium" because a guy this pretentious would certainly come up with such a creative name for a new element...
Builds an armada of new Transformers that don't really transform, but instead just kind of break apart and reform while hovering somehow
Says they can program Transforumium into whatever they want, but he appears to somehow have telepathic control over it
Despite this, Megatron's head infects the new Transformers and become his slave robots, with him now in the guise of Galvatron
Does a face turn after Cade, who somehow had this guy's personal cell phone number, tells him Galvatron is in control of himself
Runs all over China while being chased by Attinger and Savoy
Really doesn't do anything noteworthy after his American laboratory is destroyed
No, seriously, after he expositions for about the 37th time about his backstory (this time to Su Yueming), he never does anything else that makes a difference to the "plot"
Should probably have served a prison sentence of eleventy billion years after Lockdown is destroyed, based on all the illegal and treasonous shit he did
Ad blocker interference detected!
Wikia is a free-to-use site that makes money from advertising. We have a modified experience for viewers using ad blockers

Wikia is not accessible if you've made further modifications. Remove the custom ad blocker rule(s) and the page will load as expected.