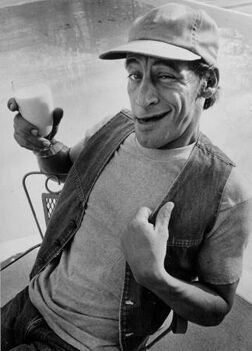 James Albert "Jim" Varney, Jr.
(June 15, 1949 – February 10, 2000) was an American stand-up comedian, actor, musician, writer, voice artist, and comedian, best known for his role as Ernest P. Worrell.
In the afterlife, he acts as the Watcher and ultimate symbol of good in the Tiradesverse, bringing light-hearted cheeky shenanigans to a world mostly full of shit.
It has been written that one day he will be called to do battle with Jigsaw to determine the fate of a universe.
He apparently has a dragon, know what I mean?
Warriors lead by Jim Varney
Edit
Ad blocker interference detected!
Wikia is a free-to-use site that makes money from advertising. We have a modified experience for viewers using ad blockers

Wikia is not accessible if you've made further modifications. Remove the custom ad blocker rule(s) and the page will load as expected.