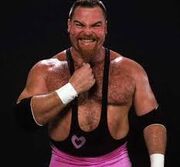 Jim "The Anvil" Neidhart
is a professional wrestler best known for being the guy in the Hart Foundation that wasn't Bret Hart.
Was one of the very few bright spots on the Heroes of Wrestling PPV
Essentially wrestles himself for ten minutes on that PPV
An inspiration for beard growers the world over
We're pretty sure his daughter is adopted
Ad blocker interference detected!
Wikia is a free-to-use site that makes money from advertising. We have a modified experience for viewers using ad blockers

Wikia is not accessible if you've made further modifications. Remove the custom ad blocker rule(s) and the page will load as expected.